Celebration of space ideas in Darmstadt – a hackathon full of innovation, fun challenges, and intergalactic visitors!
For the fourth time now, cesah has brought the international innovation competition
ActInSpace
to Darmstadt! From 18th-19th November 2022, 6 teams worked together for 24 hours to develop business ideas that made use of space technology and data. They came up with ways to improve internet distribution through satcom, to predict disease outbreaks using satellite image data, to make space telescopes more accessible through a modular approach, and much more! For all of you who missed this fantastic event – here is a short review:
The hackathon launched with an inspiring keynote by Maximilian Weiß, Co-Founder of
Panda Insight
and national winner of the ActInSpace 2018. He gave the new group of participants many valuable tips on how to make the most of the upcoming 24 hours and presented what can be achieved after a successful hackathon participation. After all, their team did develop a wellness app based on their winning idea of the AIS 2018, to use an algorithm that was originally developed for the detection of irregularities in satellite behaviour on health data, which has since been turned into a successful start-up. We would like to thank him very much for his support and the insight into the route to becoming a start-up.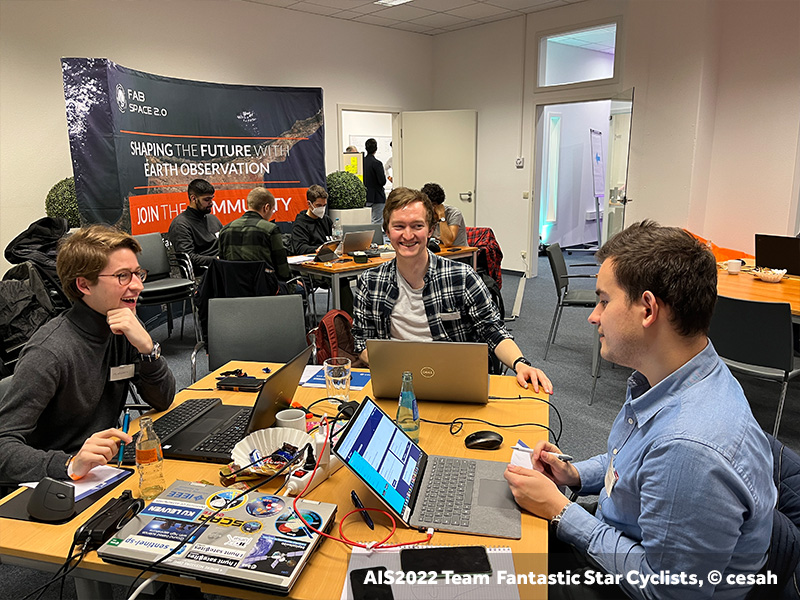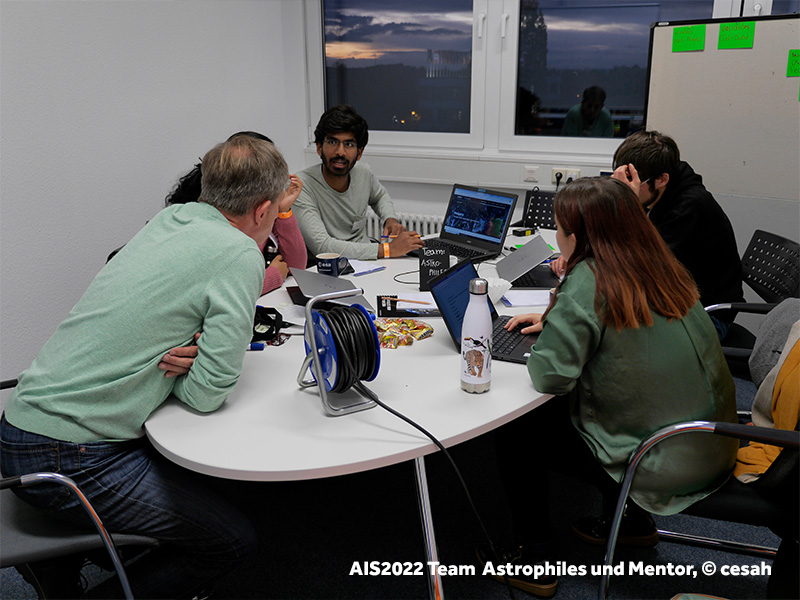 After some last-minute instructions, a countdown marked the start of the 24-hours hacking phase – now teams had to be finalized, challenges selected, and the brainstorming began. During this intense working phase our teams were supported by our 13 dedicated mentors from a very broad range of professions and backgrounds – a very warm thank you and big round of applause for their commitment and help!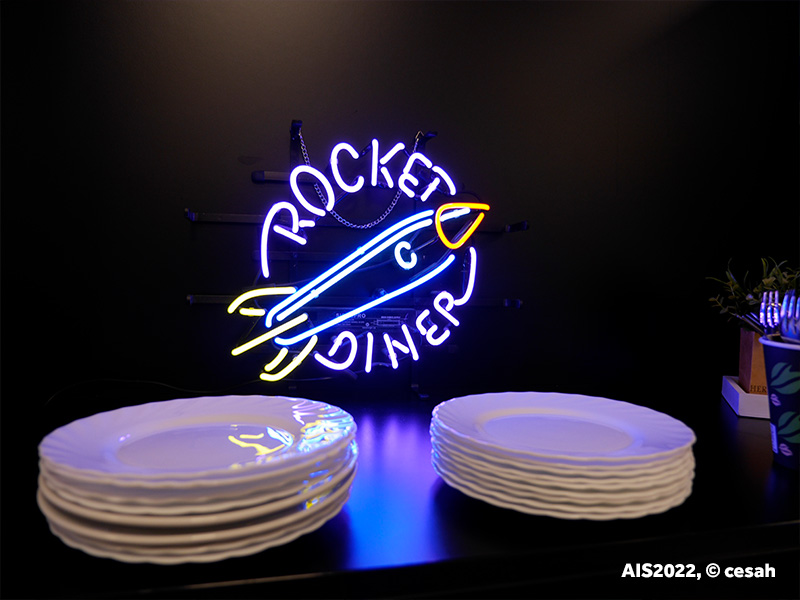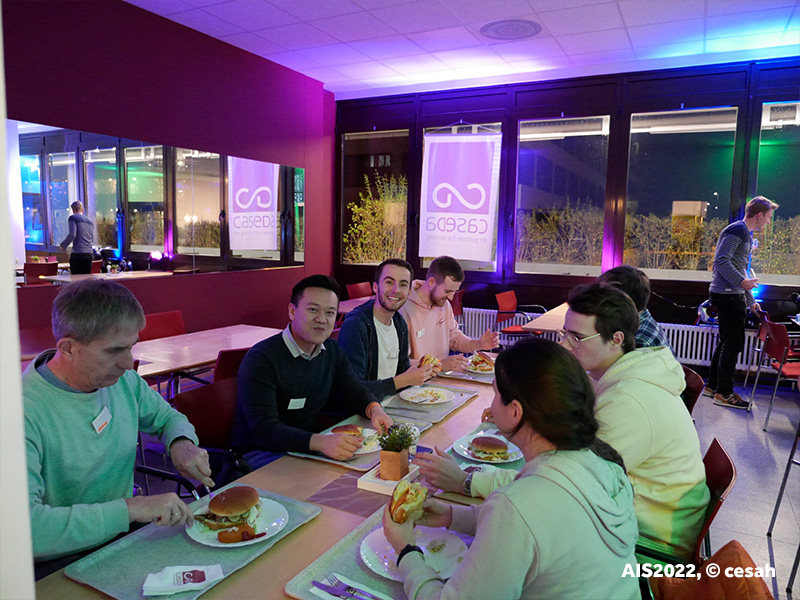 Of course, we did not let our participants starve – drinks and snacks were available throughout the hackathon and in our space kitchen, the
Caseda
-team put together some really delicious meals, including burgers, soups, salads, cakes, and chocolate pudding. No pasta though – cause all the spaghetti in the house was needed for our mysterious "special event"…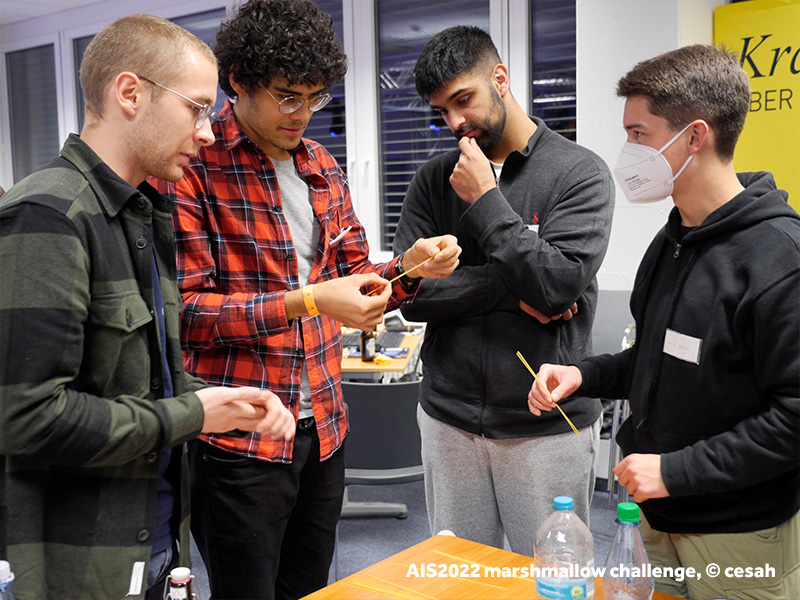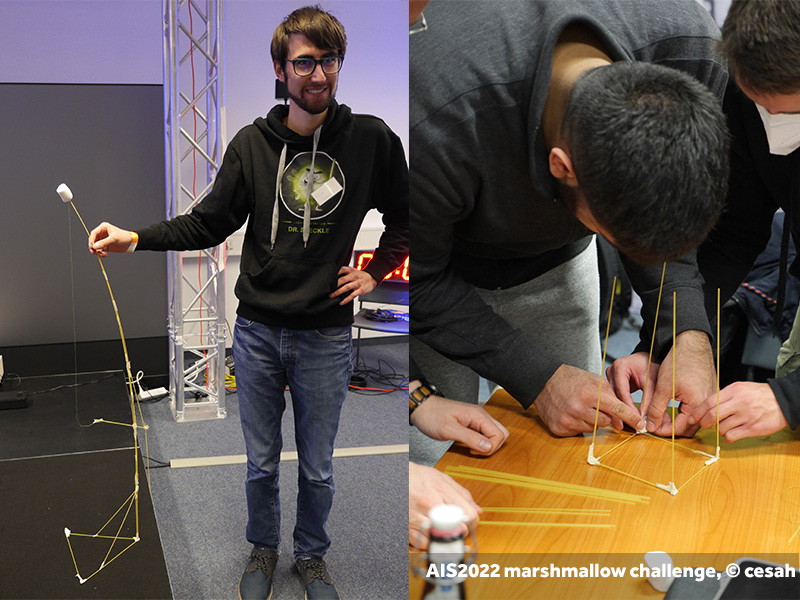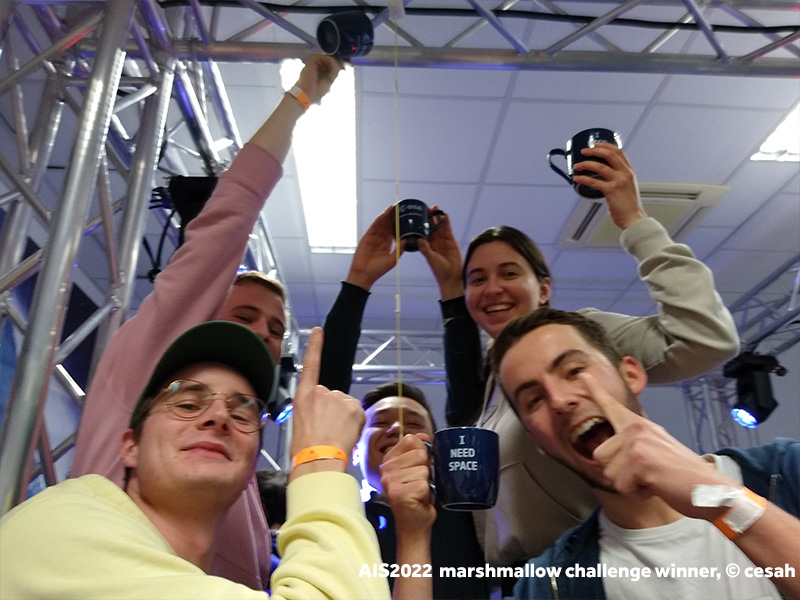 To ensure that the participants got a bit of a break and thus new energy to work on their projects, we decided to include a fun challenge in our hackathon – the teams had to build a marshmallow tower using Spaghetti, yarn, and tape – the goal was to build the highest construction that was still stable. We were very impressed, both by those that succeeded in building a self-standing tower, as well as by the cheeky creativity of the winning team ;)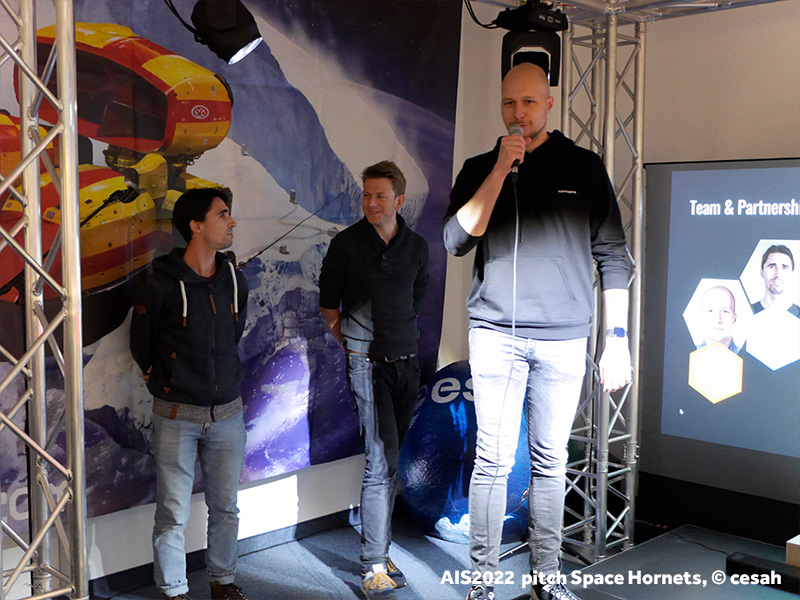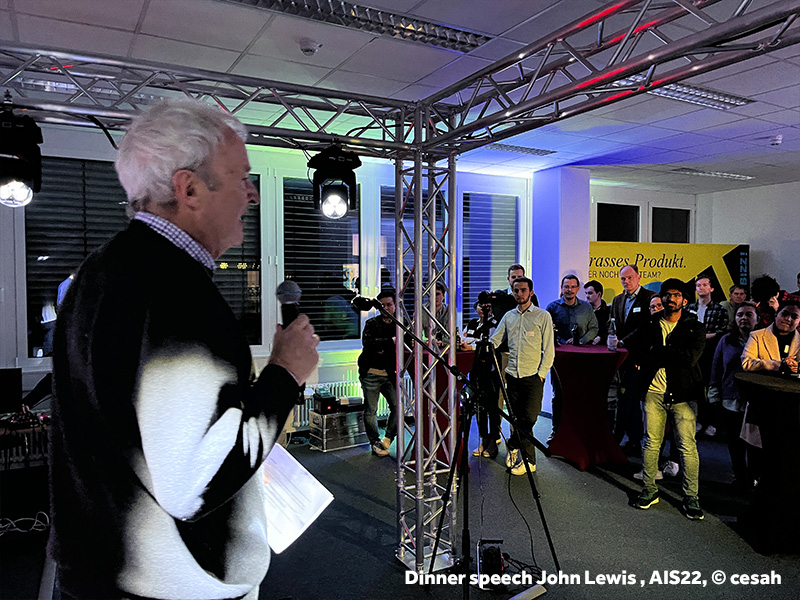 On Saturday the work on the pitches continued, presentations were designed and tested, last mentors contacted, and pitch trainings issued. At 15:45, exactly 24 hours after the starting countdown on Friday, the hacking phase ended and the teams took the stage to sweep our six head strong jury off their feet. Needless to say, we did not announce their decision to our participants straight away, the tension needed to be built up a little while longer. So before the start of our award ceremony, we had some more guests take the stage. First there was a both thoughtful and at times hilarious dinner speech by John Lewis, former Managing Director of Telespazio Vega Deutschland GmbH (now
Telespazio Germany GmbH
) and current head of new ventures at the ESA BIC Hessen start-up
agriBORA
. Then Sebastian Lemke, CEO of the ESA BIC alumni
e.Ray Europa GmbH
, was called on stage to be honoured for winning not only the Hesse prize but also the overall prize of the Galileo Masters 2021.
And then finally, it was time to announce the winners of the hackathon. Without further ado, we are extremely happy to announce them here as well:
1st place: Fantastic Star Cyclists
with their solution Sky Roam
2nd place: Space hornets
with their very modular space telescope
3rd place: UrbanSens
with their location analyses for the real estate market
Congratulations to all of you and a very big thank you to all participants for their brilliant pitches and of course all jury members for their support and their decision! The success of our three winning teams and the endurance and ideas of all participants was duly celebrated in the following networking party, with delicious cocktails from
Madame Herrlich
. The evening must have been a big success, as even some intergalactic guests showed up – a big thank you to Robert Vogel for organizing this visit! Last but not least, we would like to thank our local sponsors
TIZ Darmstadt GmbH
,
Hessen Trade & Invest GmbH
, the founders initiative of the h_da
YUBIZZ
, as well as the national partner of the ActInSpace, the
German Aerospace Centre
, without whom this event would not have been possible.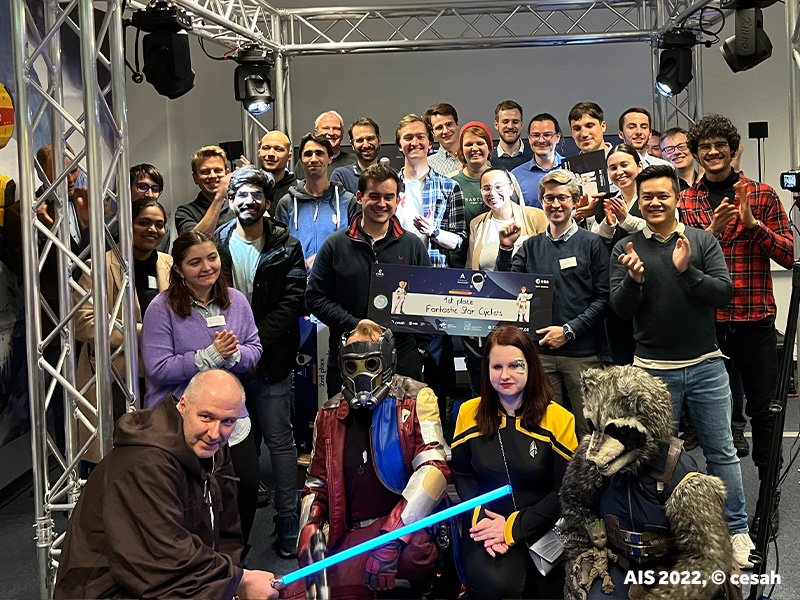 At cesah we have a saying: "after the hackathon is before the hackathon" – we hope that many of you will join us for the next one, subscribe to our
newsletter here
if you would like to keep updated.