On Tuesday 14 December 2021 the top entrepreneurs from the global space innovation competitions Copernicus Masters and Galileo Masters 2021 were presented in a festive pitching and award ceremony! Among them were our regional Hesse Prize winners, as well as a big surprise ...
e.Ray-team celebrating their double-win at the Galileo Masters 2021, ©e.Ray
For the second year in a row the winners of the two annual innovation competitions Copernicus Masters and Galileo Masters were announced in a completely virtual award ceremony. Over 35 prizes were awarded with a prize pool of over 800.000€ each for both competitions. The festive event was preceded by the "Space Pitches", where the 37 regional Galileo and Copernicus Prize winners impressed the audience with their innovative ideas and solutions. Luckily, their pitches were recorded, so you can still watch them here if you missed the event.

As in previous years, the cesah GmbH contributed to the Copernicus Masters and Galileo Masters through offering a regional Hesse prize in both competitions. The reward includes coaching and marketing support from cesah, as well as a cash prize of 5.000€ made possible through the generous support of our sponsors Hessen Trade & Invest/Digitales Hessen and the European Commission.

The biggest surprise for us was of course, that the 1st place winners of our regional Galileo Hesse prize, Sebastian Lemke and Fabian Suárez from the ESA BIC Hesse start-up e.Ray, also won the overall Galileo Masters Prize with an extra cash award of 10.000€!

Their solution WAMO - Surface Water Monitoring platform is a real-time surface water assessment platform for flood warnings and algal monitoring and control.
The free-floating platform integrates different sensors for accurate and real-time parameter observation. These sensors collect information on water level, precipitation, temperature, and pH along with parameters such as chlorophyll and nitrates. A low-power ultrasonic device is utilised to stop algae growth without harming aquatic life. WAMO's breakthrough, meanwhile, lies in the high-precision GNSS-based system it provides for accurate water level measurements and positioning which, along with in-situ measurements, serves as input for flood models, flood warnings, and effective algal bloom control. WAMO is a self-sustainable movable platform that requires low construction, operation, and maintenance costs and is easy to implement in any water surface scenario.

We are really excited to see what will come next for this creative team and would like to offer our very warm congratulations on this success! 

But the good news did not stop there: the solution that landed on the 2nd place of our Galileo Hesse prize, the Visual Awareness System for Emergency Response (VASER), also won the EUSPA Space for Being Safe and Healthy Challenge. With VASER Pedro Branco and Virtual Angle BV intend to support the tasks performed in a disaster mission control centre, namely the ones that are aimed to supply important information to the teams in the field regarding its location including surrounding teams, dangers, victims and means of support.

The 3rd place of our Galileo Hesse prize went to Yves Sterbak and the start-up Protostellar for their proposal of Digitalizing Containers on Rail. Since 2018 Protostellar has been digitalizing intermodal transports, meaning Containers and Goods being transported on the most ecological mean of transport, the Railways. It is their mission to tackle major issues with digitalization and thus achieve slim processes, full transparency, optimized resource planning, and much more.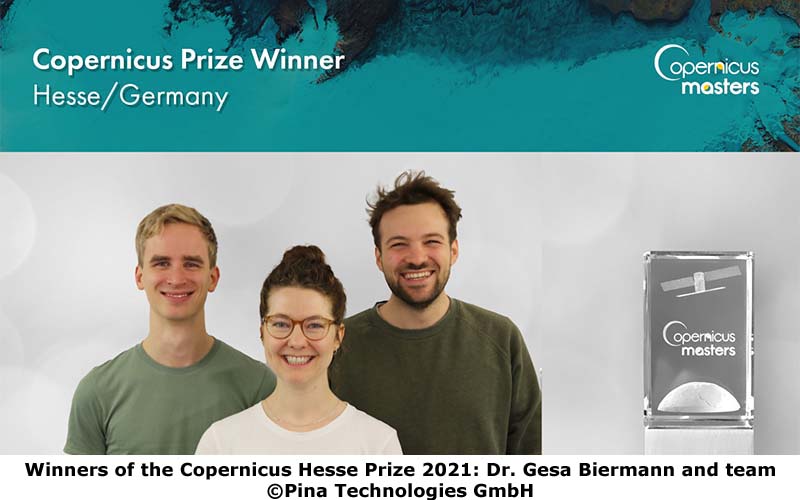 In the Copernicus Masters Hesse Prize the 1st place was awarded to Dr. Gesa Biermann and her team from Pina Technologies GmbH. The solution Pina - Quantifying and Rewarding Sustainable Forestry, convinced our jury through applying advanced AI technology to combined remote sensing data to precisely quantify the carbon present in European forests. Pina thus increases the accuracy and the efficiency of carbon credit calculation and will be able to identify trees and forests that are at risk of dying.

The 2nd place went to Patrick Helber (Vision Impulse GmbH) and the proposal Multi-Modal Early Monitoring of Crops, an innovative AI-based monitoring solution, which allows an optimal information extraction at the earliest possible stage independent of any manual or semi-automated data selection or processing.

On the 3rd place, Rowan Steele closed the sustainability circle with the proposal Super-resolution urban tree health monitoring using GANs on open data. WEO's TreeMonitor was developed to provide a low-cost tool for municipalities to monitor the health and growth of trees in their cities. They now plan to use Generative Adversarial Networks (GANs) to further enhance its ability to map tree growth at subpixel resolution from Sentinel-2.
We are very proud of all our winning teams and would like to offer them a big round of virtual applause for their innovative ideas and solutions!👏👏👏

And because the start-up world is both very big and at times very small, there are two more prize winners that we would like to include in this applause: We were very happy that one of our newest incubatees, iSpace School, won the Galileo Masters University Challenge, and very excited for the ESA BIC Hesse start-up Panda Insight, who not only won the Digital Spaces Living Labs Prize with their innovation PanDia, but also the EUSPA Space for Fun Challenge with their solution CatSla, and on top of it all one of the 6 Galileo Incubations – Congratulations!